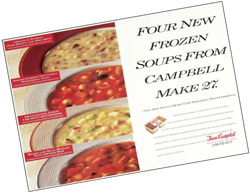 Campbell Soup Company 1992
Foodservice Marketing
Objective
Leverage Campbell Soup reputation and brand image to position the foodservice division frozen soup line as a quality solution for restaurants and institutions.
Strategy
Advertise in key trade publications the value of "Team Campbell" as a partner in menu planning. Feature the innovative soups and convenient packaging.
Tactical Examples
Worked with Campbell Soup in-house photographer to shoot prepared soups with the aid of professional food stylist.
Advertising appeared in several key trade publications (Nation's Restaurant News, etc.) and was recognized as #1 in recall scores by an independent readership study.
Provided materials for foodservice sales organization to further promote the concept of "Team Campbell" (hats, T-shirts, etc.)
High-end direct response program targeting foodservice decision-makers.
Key Learning
Sales organizations need prioritization and focus to achieve sales mission.