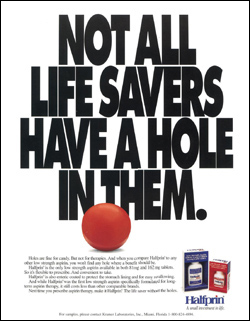 Kramer Laboratories, Inc. 1996
Halfprin
SafeTussin
Charcoal Plus
Fungi-Nail
Healthy Nail
Digestol
Uro Femme
Situation
Kramer Laboratories, Inc. leverages success with its brands to fund new niche product launches.
Objective
Build brand equity through professional advertising and slowly begin advertising to broader consumer audiences.
Tactical Examples
Advertising in medical journals (NEJM, JAMA, etc.)
Public relations media blitz with Continuing Medical Education Association (CMEA).
Halfprin consumer small space ads in Prevention Magazine.
Target pharmacists mailings and magazine advertising.
Fungi-Nail small space newspaper campaign in 50+ local newspapers.
Digestol and Healthy Nail launches.
Digestol product and package development.
Key Learning
Niche markets are created by entrepreneurial spirit and quick reaction to market opportunities and latest research/studies.