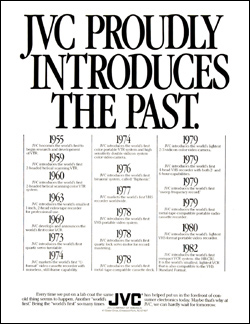 JVC 1983
Video Cameras
Video Tape
VCR/Television Sets
High Fidelity
Car Audio
Objective
Broaden the consumer appeal of JVC brand beyond aficionados.
Strategy
Thematic "We Take You There" campaign.
Tactical Examples

Heavy Print Media
Buff publications
Lifestyle
Mass market
Trade publications
Trade Shows
Dealer Kits
Key Learning
Consensus vs. Decision Maker focus (Japanese management style).